When it comes to jobsite mobility, there's no better solution than Columbia Vehicle Group. They offer the simple, versatile transportation needed in numerous environments—from the factory floor to an outdoor campus.
Remis Power Systems Inc. is your authorized Columbia ParCar dealer in Jefferson, Jefferson County, Fort Atkinson, and Johnson Creek, WI, bringing you a great selection of utility vehicles to meet your on-site transportation demands. We'll help you get behind the wheel of a product that can help you move, tow, haul and transport. As an authorized dealer, we have access to the full line of Columbia Vehicle Group products, including:
Chariot
Expediter
Multi-Vehicle Platform
Payloader
Shuttle
Stockchaser
Summit Passenger
Summit Utility
Utilitruck
Our Columbia ParCar dealers will gladly consult with you about your unique transportation needs and can assist you in making an investment in a Columbia Vehicle Group model that's ideal for your operations. Whether you need warehouse versatility or cross-campus mobility, there's a Columbia Vehicle Group for you.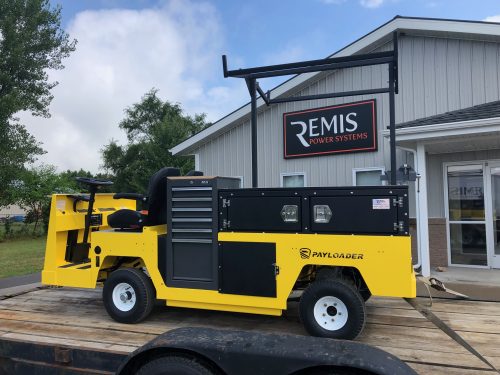 Columbia Vehicle Group Sales and Service
Columbia ParCar Maintenance
If you're already in possession of a Columbia Vehicle Group or fleet of Columbia Vehicle Group products, let us assist you in keeping your investment up and running. We're certified to provide Columbia ParCar maintenance in Jefferson, WI and have complete understanding of the maintenance and repair demands that come with these vehicles. No matter the model or the needs of your specific vehicle, we deliver top-notch repair and Columbia ParCar maintenance that restores its function and extends its service life.
Battery Experts
At Remis Power Systems Inc., our Columbia ParCar dealers are experts in all things involving batteries. If your Columbia Vehicle Group is having charging issues or is experiencing battery failure, make sure we're the first to take a look at it. We pride ourselves in addressing and resolving battery issues quickly and completely, so you can continue to get the most out of your Columbia Vehicle Group.
Contact our qualified experts today to discuss the sale or maintenance of a Columbia Vehicle Group utility vehicle, industrial battery chargers, or forklift batteries. We can be reached at 608-781-7144.