When you have industrial power supply demands, turn to the foremost experts at Remis Power Systems Inc. today. From stationary power solutions, to battery handling equipment, to motive power services including charger and forklift battery repairs in Jefferson, WI, we do it all. For your convenience, we offer repairs at your facility or ours!
Industrial Batteries
We stock dependable and durable Deka industrial batteries, in both new and certified reconditioned capacities. In fact, we're the exclusive Deka representative in Wisconsin and southern Minnesota! We can help you determine your need for Deka lead acid or Lithium battery and charger systems. We supply a variety of forklift batteries and Deka power systems in Jefferson, Jefferson County, Fort Atkinson, and Johnson Creek, WI. We provide products to you quickly, backed by all of the expertise needed to service and maintain them. And, with a free power system consultation available, you can be sure you're getting the best possible solution from us.
Battery Services
We can test and service a wide range of industrial power systems, including forklift batteries in Jefferson, WI. Trust us to evaluate the capacity of your batteries and their supply capabilities. If there are any issues, we're backed by a nationwide network for forklift battery repairs and maintenance that will restore the critical function to your battery with unparalleled quickness, minimizing downtime and future power issues.
Lithium-Ion Batteries
Faster charging, more hours of uptime and opportunity charging are just some of the many benefits that come from lithium-ion batteries. Our lithium-ion batteries enables you to optimize your operation and remove the hazards of changing, watering and cleaning of lead industrial batteries. We bring you a superior selection of lithium-ion batteries from trusted name brands like DEKA Ready Power and BLUELINE. All made in the Midwest and serviced by our Team Remis. Give us a call for a demonstration.
Battery Recycling
Our company is genuinely focused on eco-friendly operations. This means taking the time to recycle lead acid batteries appropriately and with care. In fact, we make it easy for our customers by providing battery pickup services. Thanks to our state-of-the-art recycling facility capabilities, we're able to recycle an average of 17 million industrial batteries per year! For documentation purposes, we can also provide you with a hazardous waste permit number and a battery death certificate.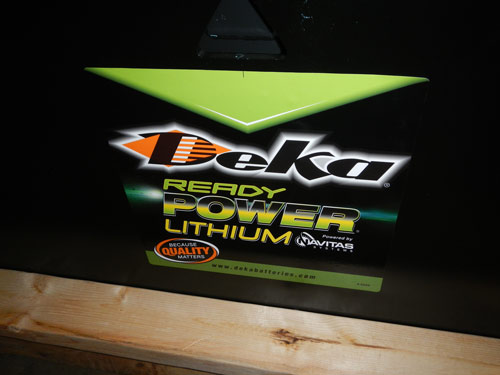 Motive Power Services
No matter the motive power demands of your business, Remis Power Systems Inc. is prepared to meet them. Our inventory of available forklift batteries and other industrial designs in Jefferson, WI encompasses motive power applications across a diverse range of industries and applications, including:
Forklifts
Arial lifts
Pallet jacks
Lift trucks
AGVs
Personnel carriers
Stationary Power
With partnerships that include East Penn Manufacturing, Full River, we're able to bring exceptional stationary power solutions to our customers in the precise capacity they require it. Our robust power options include VRLA, vented lead-acid and nickel-cadmium and lithium batteries, with VSP Electric Generators also available. Our goal is to provide you with reliable, uninterrupted power. We serve:
Renewable energy applications
Industrial applications
For more information about any and all of the industrial batteries and battery accessories we offer (including Columbia ParCar maintenance), contact us today at 608-781-7144.