There are numerous products that can help improve or restore the high function of your industrial power systems. Whether it's a few replacement components or a reliable battery watering system in Jefferson, WI, Remis Power Systems Inc. has exactly what you're looking for.
Industrial Battery Chargers
Whether you need a lithium-ion charging system to support your new battery or you're in need of a replacement truck battery charger in Jefferson, WI, come to us. We offer all of the latest charging technologies, including:
ACT
AES
Conventional industrial battery chargers
ECO Charger
Fast charge
High-frequency chargers
Ametek
Ionic mixing
Lithium-ion
Opportunity chargers
Triathlon battery chargers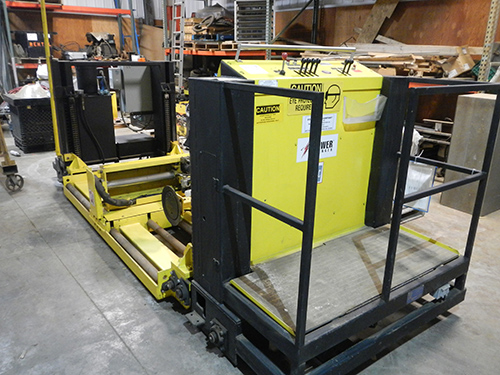 Our industrial battery chargers and battery wash equipment in Jefferson, WI comes to us by way of industry-leading brand names like DC Power Technologies, Triathlon Intelligent Batteries, Applied Energy Solutions and Advanced Charging Technologies. For truck battery chargers and more, come to us!
Battery Accessories & Components
Batteries can succumb to wear, age or fault. But often, it's just one or two crucial components that need to be replaced to restore the battery's vital function. If you've got a perfectly good product that's in need of a few industrial battery parts or battery accessories in Jefferson, Jefferson County, Fort Atkinson, and Johnson Creek, WI, we've got the solutions you're looking for.
We stock the fullest range of industrial battery parts in Jefferson, WI to ensure your batteries are always functioning at their highest, fullest capacity. Some of the items we have on-hand include:
VMS(Visual Monitoring Systems)
Auto controls
Connectors
Deionizers
I-Lite sensor (Blinkies)
Battery Watering Systems
Manual watering
Watering Valves
Water delivery systems
Battery Handling Products
When it comes to battery handling products, we have the most complete selection of high-quality products. From battery wash equipment to industrial battery chargers in Jefferson, WI, our extensive lineup of available products includes:
Battery and charger stands
Battery carts and carriages
Battery fleet management
Battery room ventilation system
Battery wash equipment
Electrical distribution
Forklift battery handling systems
Operator aboard battery extractors
Portable gantry cranes
Not sure what industrial battery parts, battery accessories or charging components you need to keep your batteries running at their fullest? Contact us today at 608-781-7144 for expert assistance, industrial batteries, Columbia ParCar maintenance, and more.